Alhamdulillah it has been almost 10 months I'm being Iris's milky bar. It is truly an achievement for me! If people asked me a year ago, could I breastfeed my daughter for 10 months? I know I would be doubting myself then, typical me, afraid to give hope to myself!! However deep inside, I would love to breastfeed my daughter for as long as possible.
I was very lucky because i was introduced to Shaklee trial pack for breasfeeding mommies since I got back to the office and since then I never missed my daily dose of vitamins. Alhamdulillah I managed to keep up with my daughter's demand and apart from the daily supply, I still have a deep freezer full of expressed breast milk.
My frozen Ebm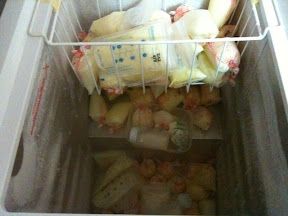 Moved to a larger storage
Thanks to Shaklee for helping me provide the best to my baby. I believe everybody can do it, as long as you diligently pump, eat good food and get enough vitamins ( as for me I choose Shaklee!! ).
So to those who are interested to try the vitamins you can simply call me zairul - 0162158301. I am now Shaklee independent distributor, because I would like to help fellow mommies out there!! I'll share some of my customers/ friends testimonials in the next post insyaAllah..
P/s - you can also email me at zairulasrah@gmail.com or just drop a message here.. I'll definitely get back to you!
- Posted using BlogPress from my iPhone